There's no catch. Just read the posts as I post them.
Right now I'm posting my book chapter by chapter. Some of these posts will focus on inspiring you (we all need a good pep rally every now and then). Some will concentrate on educating you (this isn't rocket science and the process has roots that reach deep into history). Many of the chapters will be of the "How-to" variety (I can't tell you how much I appreciate authors who give me a "fill-in-the-blank" form to help me understand an idea I'm learning).
The book itself has eight parts (not including the Forward), which appear as sub-categories under "The Book – Discover Life" category:
Part I: Prologue – A metaphorical kick start to inspire you to move right now.
Part II: Why You Need to Read This Right Now! – Don't wait until it's too late. Live the adventures of your dream right now, before life passes you by. If you have any doubts, this is the section you need to read.
Part III: How to Measure Success – Measure twice, cut once. How do you know you've arrived when you've never taken the time to figure out where you're going? Besides, you might be there already! This section explains the source of many mistakes people make. It also reaches back into history to show how this process possesses an impressive pedigree. Finally, it demonstrates how this process is similar to other popular processes and also where it's different and why those differences make this process more successful.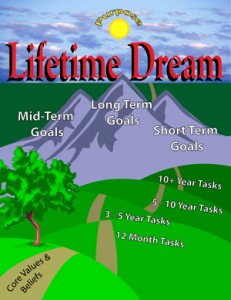 Part IV: How to Achieve Your Lifetime Dream – Revealed for the first time! The meat and potatoes you'll need to discover the meaning of your life. See that picture to the left? This section summarizes the process and explains the picture. It covers the five steps of the Lifetime Dream ProcessSM. This is where you want to start if you already understanding the nature of the process and you're rarin' to go!
Part V: Designing Your Lifetime Dream – Although we can't ignore money, you'd be surprised how little it matters sometimes. Explore the Seven Innate Principals that will guide you towards unending happiness – no matter what the state of the economy. While you can go hog wild in the previous section and identify a great list of goals, how do you know they're the right goals for you. This section circles back to the beginning of the process, carefully guiding you to relate your goals not to some arbitrary scorecard, but to what makes your life whole, happy and original.
Part VI: Putting Everything in Place to Succeed – Every long journey begins with a small step, so stop talking and start succeeding! Along the path to your dream you'll have allies (both natural and reluctant) as well as obstacles. This section shows how to understand, convince, accept and overcome as needed.
Part VII: Epilogue – Go beyond your dream. Once you've achieved your dream, what do you do next? Here we move from fixating on your life to spotlighting your legacy.
Part VIII: Appendices – Interesting tidbits picked up along the way.
The Lifetime Dream ProcessSM works very well and it doesn't necessarily require major changes in your lifestyle. How do I know? Well, to start, I've been using it for more than three decades and it's helped me achieve things my parents (and many others) would never have thought possible. (Don't believe me, then read the About Page.) But it's just not me. I've personally guided others towards achieving their lifetime dreams using this very same process.
So read, enjoy and profit. Along the way, I may throw in a particularly inspirational story or two. But what I really want is to see you achieve your lifetime dream, and if the Lifetime Dream ProcessSM provides you the push you need, all the better!